Kid Friendly Chip & Dip Recipe
One thing every party needs...good food! Whether you are having a simple shin dig with a few friends, or a full on blow out with everyone you know, food is a necessity. I mean is it really a party without it? And one food you find in one shape or another at most every party, is chips and dip (except maybe those super fancy gala types, but seeing as my wardrobe does not include anything floor length or sparkly, I am obviously not counting on those.)
Chips and dip are a staple at most every gathering whether it be a neighborhood block party or an intimate baby shower. This recipe fits the bill perfectly, and will make everyone there happy!
Considering this recipe is made with just a few ingredients you probably all ready have, it also makes it a perfect last minute dish to whip up when your best friend says the family is coming over in an hour! Grown ups love it (of course) but it is also 100% kid approved! You can easily switch up the "chips" you serve it with to change it up a bit. It's easy, delicious, and a crowd pleaser. What more do you need?
Chocolate Dream Dip
Ingredients:
1 8oz package cream cheese
1 cup plain greek yogurt
½ cup powdered sugar
3 tbsp cocoa powder
1tsp vanilla
mini chocolate chips
Potato chips
Graham crackers
Fruit
Animal crackers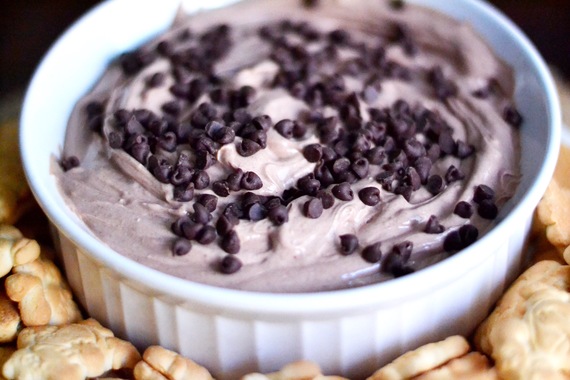 Directions:
In a medium bowl, using a hand mixer, cream together the cream cheese, vanilla and yogurt until smooth.
Carefully add powdered sugar and cocoa powder. Start mixing on slow and increase to medium speed.
Cream together until it is smooth, with no sugar/cocoa lumps.
Put in serving dish and sprinkle with mini chocolate chips.
Serve with potato chips! (or other "chips" like graham crackers, animal crackers, or fruit)
*Notes: Taste as you go, and if you would like the dip sweeter, simply add a little more powdered sugar a tablespoon at a time until it is sweet enough for you.
You can also use regular chocolate chips on top, or even chocolate/rainbow sprinkles.
Keala is a former teacher turned stay at home mom of 2 little boys, 5 and 2! She is the owner and author of Recipe For a Sweet Life, where she blogs about kids, life and of course, good food.
Blog: www.recipeforasweetlife.com
IG: www.instagram.com/recipeforasweetlife